Hu Xiaoxing
Zhang Enxiang
Zhao Gencheng
Sun Youting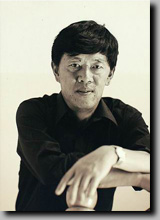 Hu Xiaoxing
Born in Kunming, Yunnan Province in 1951, Hu Xiaoxing was graduated from Yunnan Art Institute. Currently he is a dean of Kuming Art Academy, vice president of Kunming Artist Association, vice dean of Hong Kong International Art Academy and a member of China Artist Association.
His paintings had chances to be collected in China Art Exhibition and China Watercolor Painting Show. Among his paintings, 'A Niu' was awarded as Excellent Painting at 2nd China Watercolor Painting Show; 'Struggle' was awarded as Excellent Painting in at 9th China Art Exhibition. Some outstanding paintings have been displayed in Hong Kong, Macao, Taiwan and Europe. His works were recorded in "China watercolor paintings annals in 20 Century", "World Famous Chinese Artists annals".
During a long period of producing and practicing, he has established and improved his particular personal style. His paintings, concentrated on relationship between human being and nature, are so pure and delicate to shock the visual feeling of audience.